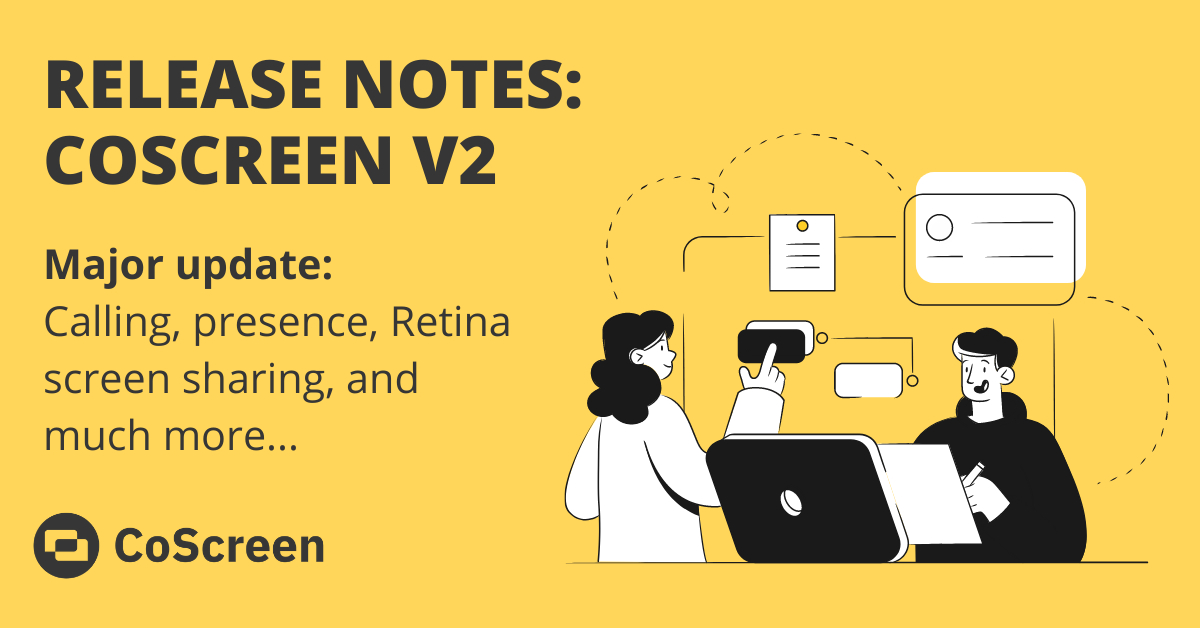 DATE:

AUTHOR:

Team CoScreen
General Product Updates
Windows
macOS
Download CoScreen v2 - Calling, Presence, Retina High Res Screen Sharing
DATE:
AUTHOR: Team CoScreen
TL;DR: Get CoScreen v2 here https://www.coscreen.co/download
We are super excited to release CoScreen version 2 with lots of improvements across the board. Most notably the ability to keep a list of contacts and call them directly for all those ad-hoc debugging needs. As Carly Rae Jepsen would say it—Call Me Maybe (next time you can't resolve that MR)?
Here's what's new in CoScreen v2
Watch the highlights in this video or dig into the details below:
Calling another user right from within CoScreen instead of having to send a link to a CoScreen, coordinate via Slack, or via Google Calendar (all those ways of course still work as beautifully as they're doing today).
Super-simple invite flow: Choose your collaborators to call/to take calls from simply based on your last interaction or by entering their email address.

Get your team onto CoScreen: Invite multiple collaborators at once during onboarding and via the "Invite Users" link under your user profile.

Simple user status to show if you're available without any frills:

Green: available - CoScreen app is running and you're not in a CoScreen

Red: busy - You're in a CoScreen right now

Grey: not available - CoScreen app is not running or connection request is pending
→ That means, you set your status by launching or closing the app.
Upcoming: Local window moving. It didn't make the cut for this release, but we will soon bring a way for you to move shared windows anywhere without impacting the location on the remote end. This is one of our most requested features.
XL / pop-out video view
In some contexts, we understand that it is useful to see who you are talking to in a larger format. With the pop-out video of the active speaker, you now get even more flexibility in video sizes.
More goodies
Favoriting and searching for CoScreen: As more and more users have more and more CoScreens, we've added a live search and the ability to favorite CoScreens.

Assign emoticons to CoScreens 🚀🌈🦄: Bring a little color into your team by tagging CoScreens with an emoticon.

Major screen sharing quality boost when watching shared windows on Retina displays (e.g. most MacBooks).
Left old CoScreen 1.x, right new CoScreen 2.x, 200% zoomed
Auto-reconnect/reshare on connection problems: This improves resiliency if you're network isn't pristinely reliable and stable.

Indicate when someone starts sharing: You will now see the user flash a couple of times to indicate that a new window was shared. As before, you can just click to bring it to the foreground.

Sharing context menus in JetBrains IDEs: Remote users can now see context menus on JetBrains apps including Rider, WebStorm, and IntelliJ.

Call quality optimizer: If quality is bad during a session, we have added a notification banner to make it more obvious to help you tune your experience.

Improved onboarding flow: Allows user to fast-track onboarding to the most important steps.

And there's more: bug fixes...

Fix for a variety of white/transparent windows issues: Alice shares a window, Bob sees a window - as simple as that.

Fix for garbled video feeds with certain webcams (🤞 not yet confirmed if it fixes all cases but we're optimistic).

Block power save during a session: This got rather annoying and caused other strange issues.

Fixed underscore ( _ ) key mapping: And we plan on delivering more improvements in this area progressively (especially for our international keyboard friends).

Fixes for sharing VSCode in fullscreen: There was a small offset to the shared window when entering and leaving fullscreen mode.

Multiple Improvements to screen sharing: fixes for focus stealing, remote cursor timeouts and missing tabs on shared windows.
Here's how calling works in CoScreen v2
1. Click on the "+" icon next to "Your Collaborators" in the main menu.
2. Pick users from the list of whom you've been recently in a CoScreen with to add them to your list of collaborators (we're working on a feature to invite users by entering their email address).
3. Once they have accepted your request, both of you will be able to call each other, right from within CoScreen.