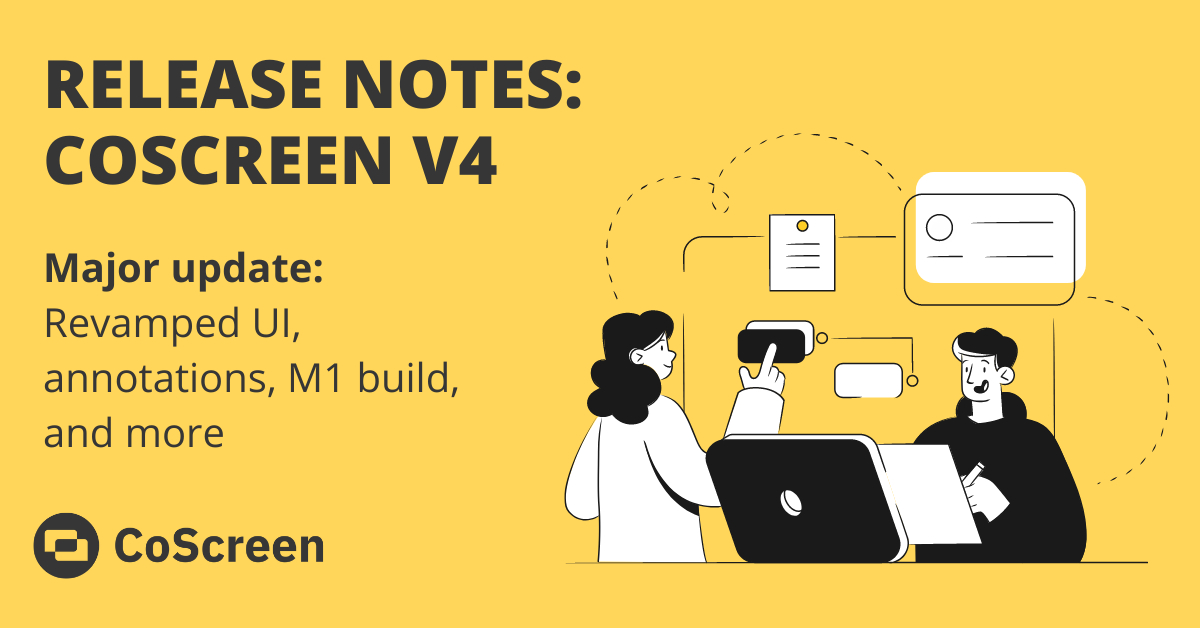 DATE:

AUTHOR:

Team CoScreen
General Product Updates
Windows
macOS
V4: Revamped UI, annotations, M1 build
DATE:
AUTHOR: Team CoScreen
It's time for another major release packed with features and updates. Following popular demand, we are excited to bring you a revamped UI that improves the experience in both video chats and pair programming sessions alike — the layout of videos and controls is now fully dynamic to suite all tastes. And to make communication more fluid we now let you draw on other users' shared windows with the click of a button through a new annotations mode.
For all you Mac M1 users, we finally got a dedicated M1 build out. Savor the boost in CPU performance!
Please note that to keep things running smoothly we had to make this update mandatory so you will be promoted to install it in your next start.
What's new?
With our new annotations feature you can now quickly highlight and draw on top of someone else's shared window to get your point across faster. Just click "draw" on the tab that appears to activate the annotations mode.

In our revamped UI you can adjust the size of your video feeds with ease to get it just right for that cheerful team meeting — or out of the way for an intense pairing session.
The main controls are now more pronounced with drop-downs for faster switching between audio and video sources.

With a fresh new Apple silicon/ARM build for Mac you can now benefit from the full power of your shiny new M1 hardware. The performance boost is solid! This complements our previous releases of Metal-based rendering and Screen Capture Kit for a more delightful CPU experience on macOS.

On update, your Mac hardware will be automatically detected so that you get the right build (x86 or ARM).

Our logo was tweaked to better fit with the Datadog suite of products.

We fixed a bug that would sometimes cause videos and shared windows to stall.

We fixed a bug that could cause audio to sound crackled. Especially on M1 hardware.

Plus a lot more updates and fixes for a more reliable and pleasant experience.
Update 24 Aug, 2022 (v4.0.69)
We tweaked our onboarding experience to make it easier to dismiss the bot.

Added logging to more easily debug connection issues.